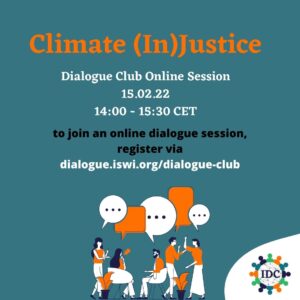 Getting to know other people's opinions, listening and being heard, asking good questions, having open conversations on controversial topics, challenging your perspectives but not giving up your identity.
Does it all sound interesting to you? Then join the 1st session of the new project of Ilmenau Dialogue Center with a working title "Dialogue Club".
The topic of the session is Climate (In)Justice. On Tuesday, 15 February 2022 we will meet online from 14:00 till 15:30 CET. You will receive the link to the meeting after registering via dialogue.iswi.org/dialogue-club until 14 February 2022, 23:59 CET.